Dentures in The Junction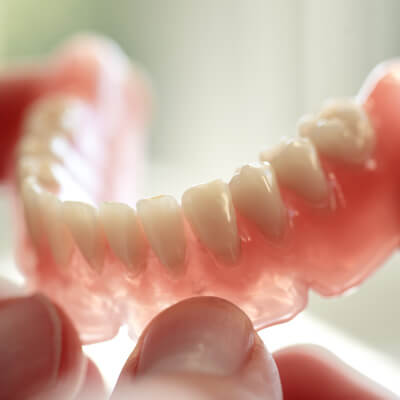 Today's modern dentures represent an effective and time-tested way to replace lost teeth. An incomplete dentition can impede speech, chewing and strain in jaw muscles and joints in certain individuals. Faces can look sunken without teeth. At Maple Dental, our bespoke removable appliances can restore confidence, function and enhance the appearance of one's smile.
What Are the Benefits?
There are numerous advantages associated with these appliances:
Affordable
Can be used as an interim to implants or instead if implants are not an option (i.e. biological/financial causes)
Custom-made
Help enhance speech
Maintain the health of jaw joints
Restore facial heights in certain individuals
What to Expect
We will perform a comprehensive assessment of your dentition including your gums and bite. We will then derive a treatment plan suitable for you, keeping in mind your goals and expectations for replacing missing teeth. Our practice only utilizes Australian made prosthesis and engages local dental technicians who we work with regarding the design and fabrication of your appliance for optimum outcome and comfort. You will be involved in every step from design to finish, including the shade-taking process.
Frequently Asked Questions
What are the dentures made of?
Dentures can be made out of metal (cobalt chrome), acrylic and flexible nylon. This flexibility is important, particularly if the wearer is older and frail, and the mucus in their mouth is friable.
We use a local dental laboratory (located in Adamstown, Newcastle).
The dentures of today are much more comfortable than those of the past as material and designs evolve but it does take a bit of time getting accustomed to wearing them.
The longevity of the appliance depends on the user—how well they look after them and the integrity and foundation of the remaining teeth in their dentition.
The dentures are locally made and of superior quality.
Will I be able to eat and drink normally with the appliance?
Yes, you can wear the dentures in a normal fashion but like all new things, it may take a little getting used to. Most patients can function as close to normal after the initial period of getting used to their new appliance.
Book an Appointment
Take that first step towards restoring your smile. Contact us today to schedule an appointment with one of our dentists!

Dentures The Junction, Merewether, Newcastle NSW (02) 4969 4833