Emergency Dentistry in The Junction
Urgent Care When You Need It Most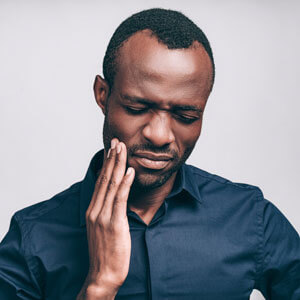 At Maple Dental, we understand that dental emergencies can happen at any time, causing discomfort and concern. That's why we are here to provide you with prompt and compassionate dental care when you need it most. Our dedicated team of dental professionals is ready to address your dental emergency and alleviate your pain and worries. Our state-of-the-art practice has modern equipment to help our dentists make an accurate diagnosis and provide swift and appropriate care. We work with a range of specialists as part of our team whom we can refer to should the need arise.
Common Dental Emergencies We Treat:
1. Toothache or Dental Pain:
Persistent toothache or sudden dental pain can be signs of an underlying issue such as an abscess, decay, or infection. Our team will promptly diagnose the cause of the pain and develop a treatment plan to provide relief and restore your oral health.
2. Broken or Chipped Teeth:
Accidents can result in broken or chipped teeth, causing discomfort and affecting your smile. We offer immediate solutions to repair or restore damaged teeth, ensuring both function and aesthetics are preserved.
3. Lost Fillings or Crowns:
Losing a filling or crown can expose the affected tooth to further damage and sensitivity. We prioritize fixing these issues promptly, ensuring your tooth is protected and functional.
4. Knocked-Out Tooth:
If a tooth is knocked out due to trauma, time is of the essence. Contact us immediately, and we will provide guidance on preserving the tooth and aim to reimplant it, increasing the chances of successful reattachment.
5. Bleeding Gums or Oral Trauma:
Excessive bleeding from the gums or any oral trauma should not be ignored. Seek immediate dental care, and our team will assess the situation and provide the necessary treatments to stop the bleeding and prevent further damage.
6. Infections and Abscesses:
Dental infections and abscesses can cause severe pain and may lead to systemic health issues if left untreated. We promptly address infections, provide pain relief, and implement treatment to eliminate the infection.
Our Approach to Dental Emergencies:
Immediate Attention: We prioritize dental emergencies and aim to provide same-day appointments to address your urgent needs promptly. If you experience a dental emergency after hours, please contact us using our e-form. Most times our emails are monitored, and a member of our staff will likely get back to you, if not the same day the next morning.
Compassionate Care: Our team understands the stress and discomfort that dental emergencies can cause. We strive to create a supportive and comforting environment to alleviate your concerns and fears.
Thorough Evaluation: Our experienced dentists conduct a comprehensive examination to diagnose the issue, determine the extent of the emergency, and devise a personalized treatment plan.
Customized Treatment: Based on our evaluation, we provide tailored treatment options to relieve pain, restore functionality, and enhance your oral health.
Contact Maple Dental for Dental Emergencies:
If you are experiencing a dental emergency, do not hesitate to contact us at (02) 4969 4833 or fill out an e-form on our website. Our compassionate team is here to assist you and provide the care you need during your time of dental distress. Trust Maple Dental for comprehensive and immediate dental emergency services. Your comfort and oral health are our top priorities, and we're here to help you smile pain-free again!

Emergency Dentistry The Junction, Merewether, Newcastle NSW (02) 4969 4833