Checkup and Cleans in The Junction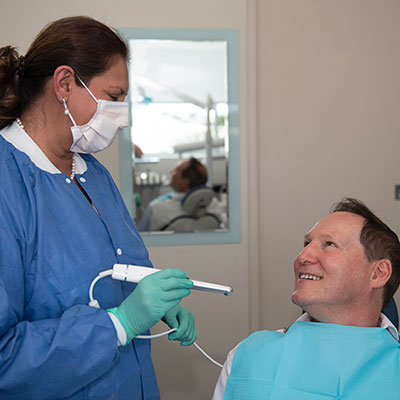 At Maple Dental, our dentists provide attentive, proactive care that keeps our patients healthy. With early diagnosis of periodontal disease, tooth decay, oral cancer screening and thorough airway examination, we don't just promote healthy smiles, we help change lives.
What to Expect
We begin by taking a comprehensive medical and dental history along with a lifestyle risk assessment questionnaire. We will then perform a thorough exam of your head and neck as part of an oral cancer screening, before examining your teeth and gums for periodontal disease (loss of bone levels). Early detection and treatment minimizes infection and tooth loss.
We will take a series of digital photographs and any X-rays, if needed. We also have an OPG machine that can take a radiographic image of  your full dentition to provide further details in diagnosis. We will advice you if this is needed.  Once we have collected these records, we will debrief you on our findings and discuss a thought out plan for any further treatment if required. If you are happy to proceed we will perform a clean and polish.
Our practice has a new Airflow stain and biofilm removal device for a gentle state-of-the-art clean. This device craft-fully expels air, water and a medicated powder to remove plague, stains and deposits off your teeth. Patients who can benefit will also receive a fluoride treatment to help with demineralisation and tooth sensitivity.
We will assist you in refining your technique in cleaning your teeth if needed and provide you with relevant oral hygiene instructions.
Read more on floride here.
Oral Cancer Screenings
Oral cancer can be an extremely invasive and hard-to-detect disease. That's why we perform detailed screenings on every new and existing patient during their checkup appointment. Our dentists evaluate all tissues of the head and neck, as well as inside the mouth. Read more here.
Occlusal Assessments
The way your teeth bite together (occlude) can impact everything from your airway and digestion to TMJ health and dental disease. We will evaluate your bite/occlusion to determine if interceptive orthodontics or clear aligners could be beneficial.
Airway Exams
Chronic snoring and sleep apnoea are often related to your oral anatomy. When airway blockage reduces oxygen intake, it can lead to chronic fatigue and additional problems. Should we note an airway obstruction, we can make an appropriate recommendation for a possible sleep study or oral appliance. Read More on Sleep Apnoea here .

Checkup and Cleans The Junction, Merewether, Newcastle NSW
(02) 4969 4833