Crowns and Bridges in The Junction
Whenever a tooth is compromised due to wear, cracks or decay, other restorations may not offer the level of protection it requires. Instead, a protective crown or bridge to replace the tooth is usually in order. At Maple Dental, our dentists offer custom shaded crowns and bridges for optimal results.
New Patients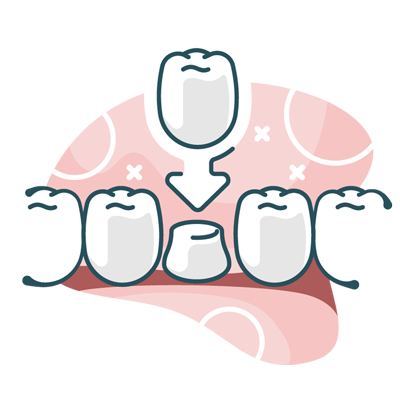 A crown is a full-coverage restoration that goes over and around the entire tooth. Crowns reinforce teeth that are brittle or severely decayed. They're also necessary after treating a tooth with a root canal, or if the majority of the tooth structure is already restored with large fillings.
Treating your tooth with a crown will help prevent it from wearing down even further. Otherwise, the compromised tooth would likely break apart over time due to everyday use.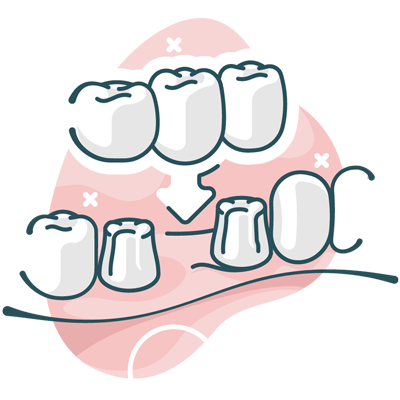 Dental bridges are a fixed alternative to dentures if you have missing teeth. They are supported by teeth adjacent to the missing one. We recommend bridges when the supporting teeth on either side are already heavily restored; otherwise, an independent dental implant may be a better choice. Bridges can also be attached to dental implants if there are several missing teeth in that space.
Local Lab-Made Crowns and Fillings
All of our dental crowns and bridgework are crafted in a local Dental lab. The lab technician may even come to our practice to take a custom shade and record digital chromography. These steps ensure the best colour match for your restoration, allowing it to blend in with the natural colour of your adjacent teeth.
Custom Dental Plans
We work closely with each of our patients to determine the best smile solutions for their broken, worn or missing teeth. To learn more about our custom crowns and bridges, request a consultation today.

Crowns and Bridges The Junction, Merewether, Newcastle NSW
(02) 4969 4833