Children's Dentistry in The Junction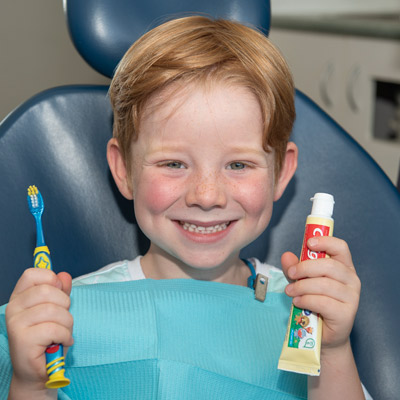 Maple Dental offers friendly, age-appropriate dental care for even the youngest members of your family. Through early visits and creating an inviting atmosphere, our dentists can help children adapt to dental visits more easily, reducing their risk of anxiety or apprehension in the future.
Tell, Show, Do
We want your child's dental experience to be positive, impacting the way they view future checkups. That's why we work at their pace, allowing them to ride in the chair, see the instruments we use and even play with puppets to show them what we will do during their appointment. We also have plastic models where children can mirror what the dentist is doing, so that their exam seems less intimidating.
Their initial visits may simply be familiarising your child with the dental practice environment; we don't want it to be scary. Perhaps we will only shine a light in their mouth and count their teeth. Children that are willing and cooperative can receive a full checkup and clean. We focus on positive enjoyable experiences and want to build a trusting bond for life. This is why we will take the time.
New Patients

Airway Assessment
The alignment of your child's teeth and jaws impacts their airway and quality of sleep. If we observe airway restriction or symptoms of sleeping disorders, we may refer them to a paediatric ENT close by.
Dietary Consultations
We work with children and their caregivers to discuss everyday choices that impact their cavity risk. Children with a high occurrence of tooth decay can benefit from these discussions, as we will provide important information to lower their risk of cavities in the future.
Orthodontic Screenings
Your child's oral development and breathing patterns affect their jaw growth, tooth alignment and sleep. If we observe issues like crowding or atypical jaw size, we may recommend orthodontic intervention to encourage appropriate growth patterns. Our practice offers limited orthodontic treatments and can offer referrals if a specific case falls outside our scope of care.
Children's Dental Benefits Scheme Accepted
We accept CDBS benefits for qualifying children. Contact us today to reserve your family's next appointment.

Children's Dentistry The Junction, Merewether, Newcastle NSW
(02) 4969 4833