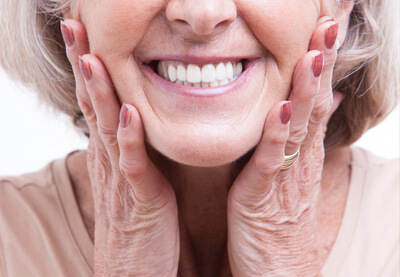 Restorative Dentistry in The Junction
At Maple Dental, our dentists are committed to providing minimally invasive dentistry. This approach to care allows us to preserve as much natural tooth structure as possible. Not only is it gentler to teeth, but it also helps prolong the integrity of your smile.
New Patients

Types of Dental Restorations Offered
Teeth can require extra protection or repair when cavities, trauma or other infections come into play. Our choice of dental restorations helps rebuild and reinforce tooth structures that might not function normally otherwise.
Composite Fillings—More conservative than metal fillings, composites help preserve tooth structure while also repairing areas damaged by tooth decay. Each white filling is matched to blend in with your smile, making it possible to place them throughout your mouth even if the space is visible.
Inlays and Onlays/Overlays—As part of our minimally invasive care approach, these restorations provide additional protection than a filling, but are more conservative than crowns. They are occasionally referred to as lab-made/indirect fillings or partial crowns.
Crowns and Bridges—For worn, cracked, broken or missing teeth, custom crowns and bridges help your smile appear whole and functional again. Each restoration is matched to your surrounding smile for aesthetics and durability.
Endodontic Treatment—A broken, abscessed or severely decayed tooth may require root canal therapy to avoid an extraction or additional pain. After endodontic therapy, you'll also want to plan to have a crown placed over the tooth for added protection.
Implant Restorations—If you have missing teeth, dental implants provide a stand-alone solution that's non-invasive to adjacent teeth. We offer customised implant restorations to finish out your smile.
Your Smile Is Important to Us
Learn more about our restorative treatments and services or plan a smile design visit to see a virtual before-and-after of the difference they can make.
Contact our office today to schedule an exam.

Restorative Dentistry The Junction, Merewether, Newcastle NSW
(02) 4969 4833